Charlotte Mason Companion
by
Karen Andreola
My rating:
4 of 5 stars
The habit of grown-ups reading "living" books and retaining the power to digest them will be lost if we refuse to give a little time to Mother Culture. A wise woman--an admired mother and wife--when asked how, with her weak physical health and many demands upon her time, she managed to read so much, said, "Besides my Bible, I always keep three books going that are just for me--a stiff book, a moderately easy book, and a novel, and I always take up the one I feel fit for." That is the secret: always have something "going" to grow by. (pg 346)
This idea has gotten a little out of hand lately. My currently reading pile includes:
Can You Forgive Her?
by
Anthony Trollope
Six Books of Euclid
by
Euclid
How to Teach Your Children Shakespeare
by
Ken Ludwig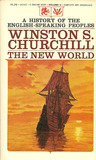 A History Of The English Speaking Peoples, Volume 2: The New World
by
Winston S. Churchill
How to Read a Book: The Classic Guide to Intelligent Reading
by
Mortimer J. Adler
Cabinet of Curiosities: Collecting and Understanding the Wonders of the Natural World
by
Gordon Grice
Westward Ho! ot The Voyages and Adventures of Sir Amyas Leigh, Knight
by
Charles Kingsley
Northanger Abbey: An Annotated Edition
by
Jane Austen
My rating:
5 of 5 stars
I'm re-reading this for a book discussion group.
By my calculations, there are three stiff books with the rest being either novels or very light reading. Not surprisingly, the stiff books are taking me much longer to get through. That's probably because "I always take up the one I feel fit for."